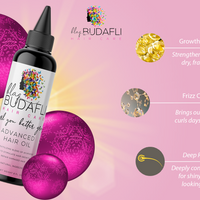 Grow Girl Grow Oil contains a revitalizing blend of Ayurvedic herbs to stimulate hair growth and repair damaged hair. Dry brittle hair becomes easier to comb and manage. This oil will reduce shedding and breakage , while promoting longer and thicker hair. It also replenishes the hair of vitamins restoring smoothness and luster. The antioxidants and anti inflammatory properties relieve dandruff and scalp irritation. This product contains all natural ingredients. The Grow Girl Grow Oil is also great for eczema.

For best results apply to scalp every other day for best results and massage the scalp. Consistency is key.

If you need help choosing the right product click here: https://blaqbudafli.com/pages/buying-guide or Call 1866-866-0141
DIRECTIONS

Apply oil on your scalp and massage with fingertips using a circular motion every other day.
Apply the oil left on your palms to your hair. Cover with a towel or shower cap and leave on overnight.
INGREDIENTS 
Brassica napus L
Trigonella foenum-graecum
Phyllanthus emblica
Zinger officinale 
Murraya koenigi
Coriandrum Sativum
It hadn't been long enough to tell what I think about it
Hair Crack
This oil is so good. it makes my hair grow super fast.
It's the growth for me
My hair has never grown so fast, I couldn't my hair pst my shoulder, now I got hang time
My Favorite OIl
This is one of my favorite hair products, my hair has really grown. I would recommend it anyone.